Party With Heart
Send your little loved one a Party With Heart birthday box to create a memorable birthday helping others.
Get a Birthday Party Box
Use our online form to get a Party With Heart party box for an upcoming birthday!
Host a Birthday Celebration to Benefit Methodist Women's Hospital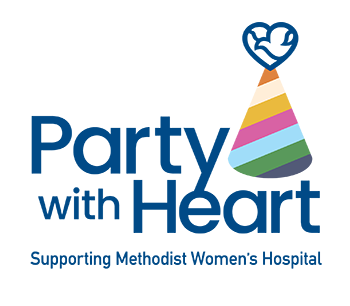 Are you getting ready to celebrate your child or grandchild's birthday? The Methodist Women's Hospital Party With Heart birthday program is a fun, meaningful way to honor a special birthday while experiencing the joy of giving back. With a $25 donation to Methodist Hospital Foundation, you will receive a Party With Heart birthday party box containing the party supplies and fundraising tools to create a memorable birthday helping others.
Let's get this party started! Here's how:
Read the frequently asked questions below.
Give our team two weeks advance notice of your upcoming birthday party
Wait for your birthday box in the mail.
Spread the word and send out your invitations.
Celebrate!
Frequently Asked Questions
What does the Methodist Women's Hospital Party With Heart program support?
Donations go to the Methodist Women's Hospital Charitable Care Fund, which supports our smallest and most vulnerable patients and their families. 
Why organize a birthday party to benefit Methodist Women's Hospital?
Methodist Women's Hospital is the birthing destination for families in Omaha and beyond – welcoming more than 5,000 babies each year. You can honor your child's special day by giving back – instead of or in addition to giving traditional presents.
What's in the birthday box?
When you pledge a child's birthday to support Methodist Women's Hospital, we'll send out a birthday box that includes a birthday bib (for 1st birthdays) or a banner with the child's age, balloons, customizable invitations and thank-you cards, and instructions on how to make your birthday fundraiser a success.
How do I collect donations made in honor of my child's birthday?
Online donations:
Use the donation form below to donate by credit card and complete the fields in the Child Information section.
Check and cash donations:
Mail cash or checks made out to Methodist Women's Hospital with the child's name in the memo line to:
Methodist Hospital Foundation
Party With Heart
8701 West Dodge Road, Suite 450
Omaha, NE 68114
Methodist Hospital Foundation will send you a final list of all friends and family who made gifts in honor of the child's birthday. Each donor will also receive a thank-you from the Foundation.
How will the child's birthday be recognized?
Each month, a list of Party With Heart birthdays will be displayed on the digital sign located in the main lobby of Methodist Women's Hospital.
Party With Heart Birthday Box