Mobile Diabetes Center: Eliminating Barriers to Better Health
Your gifts are helping members of our communities live healthier lives.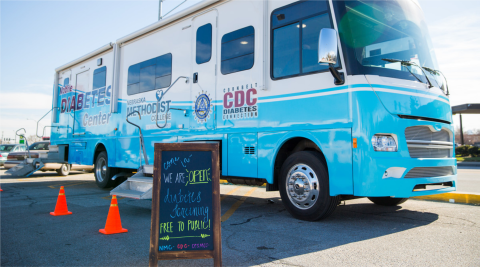 Thank You

for Helping Thousands with Screenings and Vaccinations
More people are being screened for diabetes – and vaccinated against COVID-19 – because of our Methodist Hospital Foundation donors.
Your gifts help support Nebraska Methodist College's Mobile Diabetes Center (MDC), which provides free screenings and more to underserved members of our communities.
MDC's 2021 Impact
62 site visits for diabetes screenings

811 people served

370 participants identified as at-risk for pre-diabetes

65+ locations for vaccinations

2,685 COVID vaccine doses administered

768 influenza vaccine doses administered
MDC focuses on serving those who are uninsured, under-insured or have barriers in accessing preventive screenings.
"It emphasizes the importance of prevention," said Kiley Petersmith, NMC director of community engagement. "It improves the point of access to healthcare. I'm a firm believer that we should be in the places that people frequent. That's why we've had success with the mobile unit."
MDC partners include: Open Door Mission Outreach, Notre Dame Housing, Kountze Church. Omaha Housing Authority Towers, Element Learning Center and American Muslim Institute.
To support Methodist Hospital Foundation's Community Service efforts, including the Mobile Diabetes Center, please visit our donate page.