Meet Our Donors
We are thankful for those who have made a legacy gift to Methodist Hospital Foundation. Here are their stories.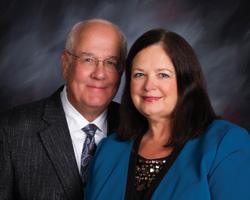 Dennis Blackman, president at Blackman & Associates, P.C., knows what it means to be a patient at Methodist Hospital. He began his life at the original facility at 20th and Harney and had it saved 42 years later at 84th and Dodge—an emergency visit triggered by a critical asthma attack.
"Without Methodist, when our daughters were married, I wouldn't have been there to walk them down the aisles," he says. "We'll forever be indebted to Methodist."
That sense of gratitude has translated into dedicated service. The longtime accountant has chaired the Methodist Hospital Foundation for two years, working with committed staff and volunteers to harness the power of the Foundation's donor network.
It has also translated into giving. Dennis and his wife, Cathy, support the Foundation through their own donations and a planned gift of life insurance. Their generosity—and the generosity of all Foundation donors—directly touches more than 40,000 lives each year and benefits thousands more through research, community health awareness and training for health care professionals.
"It's just important to give back—whether it's to Methodist or anybody," Dennis says. Cathy agrees. The former full-time mom turned real estate professional takes to heart the words of late poet Maya Angelou: "I've learned that you shouldn't go through life with a catcher's mitt on both hands; you need to be able to throw something back."
"I believe, no matter what your resources, that you can give—whether it's money or time," she says.
Together, the Blackmans are securing their own philanthropic legacy, a way of saying thanks to an institution that has been there in good times, including the births of the couple's three children, and dire. More than two decades after his asthma scare, Dennis says he considers every day a bonus. And because of that, "I think we have an ongoing responsibility to Methodist."
How You Can Give Back
Follow in Dennis and Cathy's footsteps and create your own lasting legacy at Methodist. Contact Dana Ryan at (402) 354-4825 or @email to learn more.