Laughter Is the Best Medicine
Laugh your way through a night of drinks, dinner and comedy to benefit Methodist Women's Hospital and health care for all women in our region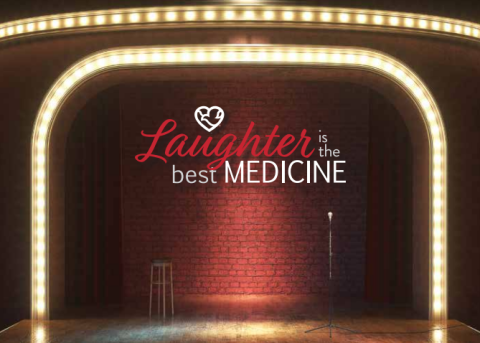 Friday, April 22, 2022
A View on State • 13467 State Street • Omaha
Presented by Methodist Volunteers In Partnership
---
"Methodist Women's Hospital is truly unique to our city and state with its dedication to women's health. We've personally seen the difference that care makes. We're excited the hospital is growing to serve more women and families. Join us as we lend our support, have some laughs and help strengthen health care for all women in our region." – Dr. Kris Hoffman and Gary Hoffman, Honorary Chairs 
---
6:00 p.m. | Mixers and Mingle
Enjoy cocktails and hors d'oeuvres while you stake your claim on favorite silent auction items and take part in frivolous fun and games.
7:30 p.m. | Supper and Stand-Up
Stroll to your table for a seated dinner and bouts of laughter courtesy of stand-up comedian Kris Covi. Then the spotlight turns as we Raise the Paddle for Methodist Women's Hospital.
Attire: Comedy club casual
Reservations: $150 per person 
Patron Reservations: $250 per person
Any reservation amount above $50 per person is tax deductible.
The Cause and the Comedian
Funds from this year's event will support the expansion of Methodist Women's Hospital

More women, at every stage of life, are turning to Methodist Women's Hospital for their care. As our multi-state reach and national reputation continue to grow, we need more space to meet the demand. For All Women is a $16.3 million fundraising campaign to expand the only hospital in Omaha and the state of Nebraska dedicated to women's health. We will increase access to the specialized care women need throughout their lifetimes.

The project will add 10–14 rooms to the neonatal intensive care unit (NICU). In addition to relieving pressure on the area's busiest NICU, these new rooms will reduce overflow to adult care areas of the hospital, opening more beds for gynecology patients as well as women undergoing surgery or receiving cancer care.

For All Women will also fund new technology, including a virtual care platform in the NICU; enhanced telehealth capability; and expanded mental health care and social service programs.

Kris Covi has been entertaining audiences of all ages with his stories about life, growing up in Nebraska, and being a 6'8" married father of three who, surprisingly, did not play basketball. Kris is the winner of several comedy competitions including the Great American Comedy Festival (amateur), placed second at the Presidential Comedy Festival and was a finalist out of 450 comics in the World Series of Comedy In Las Vegas. He is a regular at the Omaha Funny Bone and can be seen at comedy clubs and corporate events around the country.