Pressed for Time?
Try these quick and easy recipes to help keep you fueled throughout the day.
A.M. JUMPSTART | PEANUT BUTTER OATMEAL SMOOTHIE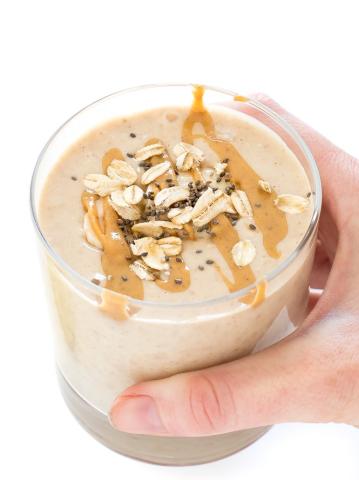 Servings: 1 | Prep time: 5 minutes 
INGREDIENTS 
1/4 cup old-fashioned oats
2 tablespoons creamy peanut butter
1 whole banana
1/2 cup soy milk
1 tsp chia seeds, optional if desired
INSTRUCTIONS 
Blend all ingredients for 30 seconds or until the smoothie is creamy and lump free.
Pour into a glass and garnish with banana slices and oats if desired. Serve immediately or place in the refrigerator until ready to eat.
NUTRITION INFORMATION
Calories: 423 | Carbohydrates: 51G | Protein: 15G | Fat: 20G | Saturated fat: 4G | Sodium: 208MG | Potassium: 869MG | Fiber: 8G | Sugar: 21G | Vitamin A: 539IU | Vitamin C: 19MG | Calcium: 189MG | Iron: 2MG
---
P.M. PICK-ME-UP | HEALTHY GREEK YOGURT GUACAMOLE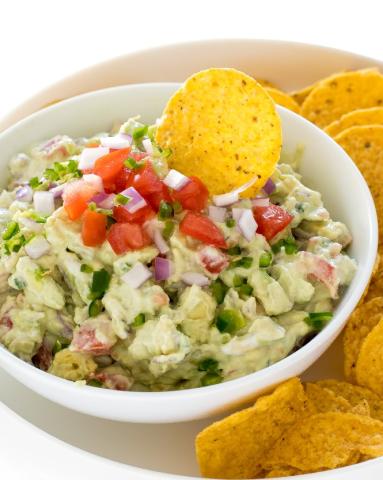 Servings: 2 | Prep time: 10 minutes   
INGREDIENTS 
1 ripe avocado, diced
¼ cup Greek yogurt
¼ cup red onion, diced
1 tablespoon cilantro, chopped
¼ cup tomatoes, diced
½ teaspoon jalapeño, minced
1 teaspoon lime juice
sprinkle of salt and pepper to taste
INSTRUCTIONS  
Combine all of the ingredients in a medium bowl. Mix to combine, making sure not to mash up all of the avocado. Season with salt and pepper to taste.

Serve immediately with your favorite chips or veggies
NUTRITION INFORMATION
Calroies: 188 | Carbohydrates: 12G | Protein: 5G | Fat: 15G | Saturated fat: 2G | Cholesterol:: 1MG | Sodium: 18MG | Potassium: 603MG | Fiber: 7G | Sugar: 3G | Vitamin A: 331IU | Vitamin C: 16MG | Calcium: 47MG | Iron: 1MG
Recipes, nutritional information and pictures courtesy: https://chefsavvy.com