A Philanthropic Power Play
UNO Mavericks Hockey Team Supports Methodist Hospital's Acute Rehab Unit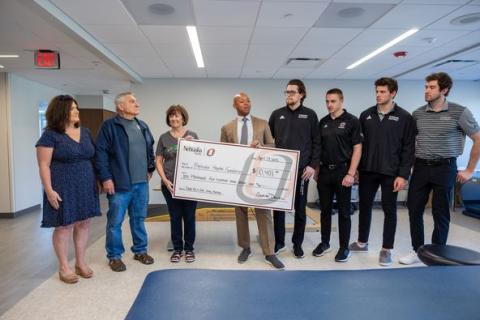 A big THANK YOU to the UNO Mavericks Hockey team. It raised more than $10,000 through its recent online jersey auction benefitting the Leap-for-a-Cure Foundation.
The money, which was presented to Methodist Hospital Foundation, went toward high-tech therapy equipment for patients on Methodist Hospital's Acute Rehab Unit, including those who may be recovering from stroke as well as those undergoing therapy for brain cancer, brain trauma or brain surgery.
A handful of UNO Hockey players tried out some of the new equipment that was purchased for the unit. They even spent some time visiting with patients – many who happen to be BIG Maverick hockey fans.