The Adam M. Koslosky Reflection Garden Mural
The combination of creativity and collaboration is a beautiful thing.
---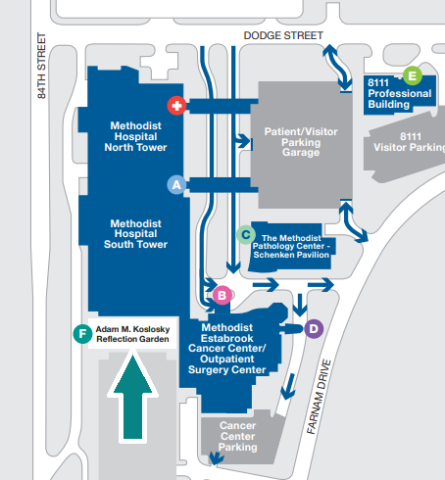 What started as a nondescript grey wall outside Methodist Hospital is now a three-part work of art.
Under the direction of mentor Hugo Zamorano, six young artists with the Joslyn Art Museum's Kent Bellows Mentoring Program (KBMP) designed and created a vibrant mural along the corridor leading to the Adam M. Koslosky Reflection Garden.
A flowing river connects the mural sections, each spray-painted and infused with the students' distinct styles.
KBMP pairs professional artist mentors with high school students, providing them an opportunity to find inspiration, gain technical skills and build a portfolio.
The Adam M. Koslosky Reflection Garden and mural wall are located to the south of Methodist Hospital by the employee parking garage. 
---
In The News: WOWT: Joslyn art students bring light to Methodist Hospital garden 
About the Design
Artist Hugo Zamorano discusses the collaborative mural design process with Kathy Koslosky, champion of the Reflection Garden named after her late husband.
Artists in Action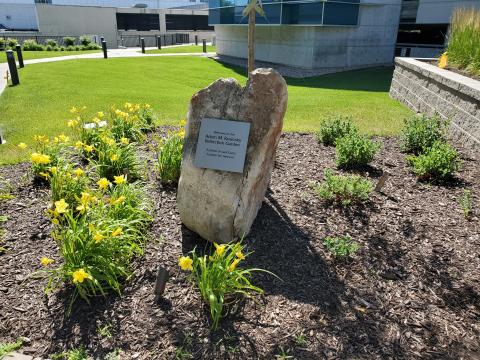 About the Adam M. Koslosky Reflection Garden 
The Adam M. Koslosky Reflection Garden is an oasis outside Methodist Hospital where staff, patients and their families can gather and recharge. It was dedicated in October 2020 to honor Adam M. Koslosky, who fought a courageous battle with colon cancer in 2018.
The space features retaining wall seating, wheelchair and hospital bed access, beautiful foliage and a water feature.