Meet Our Donors
We are thankful for those who have made a legacy gift to Methodist Hospital Foundation. Here are their stories.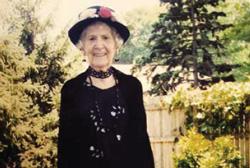 Ruth Gabelhouse took incredible pride in taking meticulous care of her home.
"There was never a dandelion in the front yard. She would be out there on her hands and knees in the summer," recalls grandson James Henrichs.
For more than 65 years, that home was a cornerstone for Ruth and husband, Tom, the place where they built a life and raised a family together. The couple's initial investment—$13,000—returned huge dividends over the decades.
"The house and everything in it were some of her greatest treasures," Henrichs said.
When Ruth died in November 2017—18 years after Tom—the 93-year-old gifted their cherished home to Methodist Hospital Foundation.
"I was very proud of her for making that choice," Henrichs says, a choice built on a foundation of incredible gratitude. The Gabelhouses's daughter, Beth Henrichs (James's mother), was diagnosed with tongue and throat cancer in the mid-'90s and turned to Methodist's prominent head and neck cancer team for surgery and chemotherapy. Despite the intensive treatment, she died in February 1996.
"Grandma always talked about how much the doctors and nurses meant to her and how much kindness they brought to Mom," James Henrichs says.
The Gabelhouses's generous act of planned giving is a reminder for caregivers of the lasting impact of their work, care that encompasses body, mind and spirit.
"It is incredibly meaningful to witness the act of gratitude that extends over decades," says Dr. William Lydiatt, a head and neck surgical oncologist at Methodist Estabrook Cancer Center. "I am humbled that a grateful patient would make such an impactful gift."
Planned giving can take many different forms—from donating life insurance or starting a charitable gift annuity, to gifting a farm or house. Methodist Hospital Foundation and its team of experts will walk you through the legacy-building process.
The sale of the Gabelhouse home will ultimately benefit the Foundation's Charitable Care program, which helps relieve the burden for patients in dire financial need. That means the couple's initial $13,000 investment will continue to return huge dividends.
"I know my grandmother would appreciate that," Henrichs says.
Create Your Legacy
Our team is always available to help you determine the best way to create a planned gift to fit your unique situation. Please reach out to Dana Ryan at (402) 354-4825 or @email to begin the discussion.