Methodist Legacy Society
Join generations of generosity. Make a difference for now and forever.
Ensuring Methodist Hospital Foundation's Long-Term Success
When you become a member of the Methodist Legacy Society, you are helping our patients and our communities today and tomorrow. Your endowed giving ensures we will always be able to live our mission and support our four purpose areas: Cancer Care, Charitable Care, Community Service and Education.
Earnings from your gift provide annual support for the causes you care about and help us plan for the future. The principal is left untouched, ensuring a steady, sustainable source of income.
The Methodist Legacy Society recognizes special friends who remember Methodist Hospital Foundation or Nebraska Methodist College in their estate plans.
Angela Sue Arner
Ken Barjenbruch, M.D.
Mr. & Mrs. Robert Bates
Mr. & Mrs. Glen Bennett
L. Pat Berger
Jane Bernecker
Dennis & Cathy Blackman
Mr. & Mrs. Edson L. Bridges, II
Robert & Elizabeth Bridges
Bob Cohn
Maria Conte, Ph.D.
Dr. & Mrs. Andrew and Jennifer Coughlin
Bruce Couillard
Christine Cox-Breternitz
Theodore DeLaet, M.D.
Tom Elser
Esther Elson
Bonnie Erickson
Nancy Ruth Flesher
Linda J. Flynn
Shirley Garcia
John & Kay Lynn Goldner
Nicole & Bryan Greer
Jane Hackfort
Richard & Pat Hahn
Mary Hamilton
E. Dean Hesselgesser
Pam Hoesing
Linda Hoidal-Berger
Ernie House
Beverly Johnson
Drs. Susan & Dennis Joslin
Andi & Joe Kafka
Beverley Karrer
Jane M. Kercher M.D.
Mary Ann Kirchner
Lou & Carmen Kleager
Julie Klein
Kenneth & Marilyn Kraft
R. Michael Kroeger, M.D.
Edmund & Patricia Leslie
Mary Lueder
Gretchen M. Mack
Gary & Katherine McConnell
Tracy Madden-McMahon & Sean McMahon
Anthony Mickells
Mr. & Mrs. Ralph Morocco, Jr.
Ronald "Gil" Nelson
John O'Gara, M.D. & Marilyn O'Gara
Douglas E. Olson
Timothy Osterholm
Cynthia Peacock
Larry & Linda Pearson
Barbara Petersen
J. Marilyn Rogers Raupe
Cheryl Retelsdorf
Kevin Schewe, M.D.
Rhonda Schram
Parker Shipley
David & Janis Silverberg
Jack Skiles
Red & Jann Thomas
Lawrence Uebner
Thomas Warsocki
Wax Charitable Trust
Frank C. "Bud" Weaver
Fred Weeks
Dr. & Mrs. James Wheeler
And our friends who wish to remain anonymous
Your Generosity Powers Our Impact
See how our Foundation donors are strengthening the health of our communities by supporting the way we care, educate and innovate.
Click here to read our latest Your Methodist Legacy newsletter.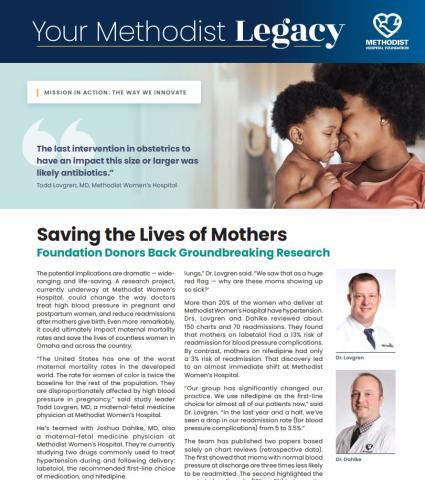 ---
Join the Methodist Legacy Society.
Learn more about Methodist Legacy Society and the forever impact of your gift. We'd be happy to speak with you in confidence, with no obligation.
Dana Ryan
Philanthropy Officer
Phone: (402) 354-4825
Email: Foundation@nmhs.org
8701 W. Dodge Road, Suite 450
Omaha, NE 68114