Meet Our Donors
We are thankful for those who have made a legacy gift to Methodist Hospital Foundation. Here are their stories.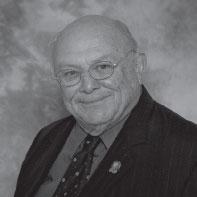 "Give until it feels good. Get up with a purpose in life. Do something for somebody else each day. Life is a gift."
These are just a few of the mottos Jerry Hoban lives his life by every day. You recognize the optimism, gratefulness and appreciation for life within the first seconds you meet him. He can bring a smile to your face and make you feel like you've known him your whole life. That's exactly how he wants it.
Jerry puts his optimism to great use through the Methodist Volunteers in Partnership. He delivers mail to patients, and takes the opportunity to touch someone's life positively and make their day. His work has not gone unnoticed: He recently received the V.I.P. Special Service Award, which recognizes the best of the volunteers.
"Volunteering keeps you in contact with people and makes you feel invigorated and exhilarated," says Jerry. He truly understands this because he has been volunteering for almost 60 years. His first volunteer experience was with Boy Scouts of America, which he helped lead for more than 20 years. In addition, he sponsored an orphanage while serving in Korea, and currently volunteers at his church and the Siena/Francis House.
The biggest influence in Jerry's life was his mother, who raised him and his two sisters by herself following the Depression. She taught Jerry to always give to others, especially during the toughest times. Jerry has honored that philosophy by establishing an annuity with Methodist Hospital Foundation to support the Surgery Renovation Project. An annuity lets the donor receive payments through their lifetime, with the remaining value of their gift going to the charity after their death.
Jerry states, "I want to smell the roses now and still be remembered years down the road. I walked away with a good feeling."