Meet Our Donors
We are thankful for those who have made a legacy gift to Methodist Hospital Foundation. Here are their stories.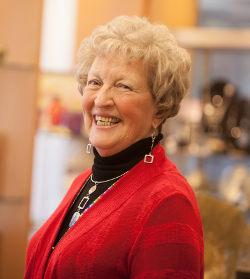 If you want to hear what makes Methodist Hospital so special, have a conversation with Jennie Jacobs. She knows Methodist—in a big way. Jennie has been volunteering at the hospital for 43 years. She can sum up its uniqueness in two words: the people.
"It's just a great place to be," Jennie says. "I love everyone here."
Her passion for Methodist has become a family affair—it is not unusual to see her children, grandchildren and extended family volunteering at Methodist, too. Jennie leads by example, teaching her family and friends that helping others and giving back is part of living a happy life. It is an important part of her legacy.
"When there is a need, I want to be there to help," she says.
You can find Jennie helping out in the Methodist Hospital gift shop and in the surgery waiting room. Many times, it is her big smile or listening ear that make all the difference. She understands the importance of compassion. In high school she lost her mother, and in 1991, she lost her husband.
"I always like to volunteer. I treat this like a real job," she says. "There are people depending on me."
Jennie's legacy does not stop with volunteering. She made sure to include Methodist Hospital Foundation in her estate plans. She encourages others to do the same.
"So often people don't plan ahead and then a surprise happens," Jennie says. "Get your estate in order."
The next time you are at Methodist, be sure to say hi to Jennie. She can tell you all about the special people at the hospital-because she is one of them.
Visit our website for more information on how you can build your own legacy at Methodist. And contact Dana Ryan at (402) 354-4825 or @email with any questions you have.