Meet Our Donors
We are thankful for those who have made a legacy gift to Methodist Hospital Foundation. Here are their stories.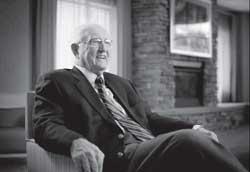 Dr. Jack Lewis has helped countless people through his care as a physician. It's what he loves to do. So it came as no surprise that he wanted to extend this help to students at Nebraska Methodist College—The Josie Harper Campus by establishing a scholarship. In 1988, Dr. Lewis and his sister Judy Bachman established a scholarship through Methodist Hospital Foundation to honor their father, Dr. Raymond G. Lewis. Their father started practice in 1934 for Methodist Hospital and practiced until he was 83 years old.
Every year, Dr. Lewis and his sister have added to the Dr. Raymond G. Lewis Memorial Scholarship in honor of their father, so the scholarship can continue to grow and benefit the students at Nebraska Methodist College.
"Scholarship money provides much needed help in this economy," says Dr. Lewis. "There will soon be a shortage of nurses, so it is important that we provide a way for aspiring nurses to get their education."
For Dr. Lewis, providing a scholarship not only makes him feel good but it is crucial to the future of our health care. "Everyone is going to get sick and come under doctor's care. They only hope and pray that they have a well-trained nurse when they become ill."
Touching Lives: Morgan's Story
Throughout the years, Dr. Lewis has had the opportunity to meet and talk with many of the students at Nebraska Methodist College (his daughter-in-law is an alumna). Morgan Spanyers is one of those students, and she is very thankful for his help and the financial assistance a scholarship provides.
Morgan grew up on a farm outside of the small town of Dorchester, Neb., and was a typical farm girl, showing cattle in 4-H and enjoying life in the country. Through 4-H, Morgan met Dr. Lewis and his wife, Kathy. They became good friends with Morgan, and this friendship became even more important when Morgan's mother suddenly became very ill.
She was eventually diagnosed with West Nile virus, which triggered Guillain-Barrè syndrome, a disease that attacks the nervous system. Morgan's mother would never walk again.
This experience motivated Morgan to become a nurse. After sharing her dream with Dr. Lewis, he guided her to Nebraska Methodist College. Morgan loved the Josie Harper Campus and the close-knit, personal feeling from the staff and students.
Morgan's greatest worry was money. She knew NMC was the school for her, but she wasn't sure she could afford the tuition. She was overjoyed when she learned she would receive the Wishmeier-Dean Scholarship, which gave her $5,000 annually over the next four years. Without scholarships like the Wishmeier-Dean and the Dr. Raymond G. Lewis Memorial Scholarship, many students like Morgan would not be able to realize their dreams.