Meet Our Donors
We are thankful for those who have made a legacy gift to Methodist Hospital Foundation. Here are their stories.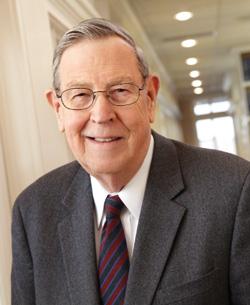 His involvement in the life of Methodist Health System can be measured in decades. Edson Bridges II, president and CEO of Bridges Investment Counsel and a soon-to-be inductee into the Omaha Business Hall of Fame, has served Methodist and Methodist Hospital Foundation in multiple capacities since 1969: trustee, vice-chairman of the Methodist Health System Board, Foundation director and current chair of the Methodist Physicians Clinic Board.
Edson was one of three trustees to investigate, plan and launch the Nebraska Methodist Health System in 1982, and he was also involved in the formation of Methodist Hospital Foundation.
"One of the happiest moments for me was getting the chance to close the first million-dollar gift that was made—and that was for the outpatient surgery center," says Edson, whose grandfather and great-uncle were doctors at Methodist in the 1920s and 1930s.
In addition to generous investments of time, Edson and Sally, his wife of 61 years, are generous with their financial blessings. They support the Foundation through direct donations, a charitable annuity, trusts and a planned gift of life insurance.
"Life insurance is a product that we can all afford and it grows for the charity," says Edson.
The Bridges' philanthropy is tied to a promise Edson and his father made that a "good portion" of what they earned through the family investment business would "go back to the Lord's work, which includes health care. … It's God's blessing on us. We are just conduits."
Their great generosity—and the beneficence of all Foundation donors—directly touches more than 40,000 lives each year and benefits thousands more through research, community health awareness and training for health care professionals. Donor dollars, Edson says, "do more good for human needs than virtually anything I know."
He adds, "There isn't anything I wouldn't do for the institution, you can believe that, and I've had the privilege of doing so many things. … I'd do it all over again if I could."
You, too, can be a conduit to a healthier community by supporting Methodist Hospital Foundation. Contact Dana Ryan at (402) 354-4825 or foundation@nmhs.org to find out how.