Foundation Ambassador Playbook
2024 Caring Campaign | Team Methodist for the Win!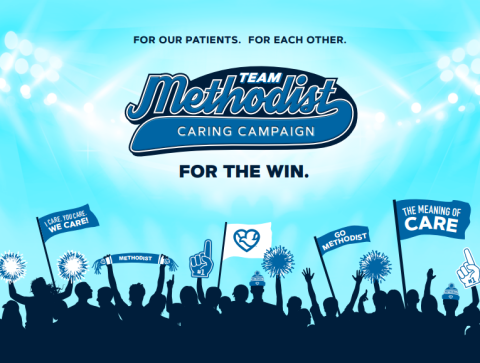 Our Foundation Ambassadors are MVPs!
With you on our team, we know this year's Caring Campaign is going to be another big win.
THANK YOU for your time, effort and team spirit. You go above and beyond, and it's making a difference for our patients, co-workers and communities.
Caring Campaign Begins Friday, September 1!
Please make sure your team members personally receive their Caring Campaign envelope and Methodist scarf. The scarves are a thank-you for considering a gift; everyone receives one. Feel free to start handing materials out now – no need to wait until Sept. 1. 

Schedule a time for a Foundation team member to stop by your department and talk about Caring Campaign for a few minutes – the earlier the better. 

We restructured these department visits to work in a huddle. Email @email with a day/time that works best for you and your team.
Remember to stress participation

in Caring Campaign – that's what really counts, not the size of the gift.
Ambassador Playbook - We Need Everyone in the Game!
Regular communication about Caring Campaign promotes better participation.

Display Caring Campaign posters.
Visit about Caring Campaign during team meetings or huddles.
Send out weekly emails and progress reports.
Share how gifts are making a difference.

Caring Campaign is our annual employee giving campaign.

This year's theme: Team Methodist – for the Win!

We care for our patients as a team – and that's what drives Caring Campaign: all of us huddling up to help our co-workers and communities.

Our goal is to get everyone involved – 100% participation – that's what really matters, not the size of the gift.

Our participation helps the Foundation raise additional funds from community donors.

Whether you give $1, $5 or more, you choose exactly where your donation is used.

Maybe that's Caring Coworkers Fund (formerly Family Crisis Connection), a fund that helps co-workers facing unexpected financial hardship. (

Caring Coworkers Fund provides employees

$1,000 in assistance every 3 years.)

Or, our Greatest Need – our campaign to expand Methodist Women's Hospital.

Giving is easy

–

you can go online or fill out your paper pledge form.

We're giving away ten, $50 gift cards each week.

The sooner you turn in your pledge form or make a quick gift, the more chances to win.

Thank you for participating!

Generate team spirit – and Caring Campaign participation – with fun, sports-themed incentives.

A few ideas to help encourage or celebrate your department's "win":

Tailgate party or gameday-style potluck
Friendly competition with a peer department
Dress your service leader

Team spirit day

Wear your favorite sports team gear

Have your own "game day" by bringing in games, cornhole or a puzzle for everyone to work on

Organize a group outing or meet up at a favorite gameday watch spot

Don't hesitate to make this a team effort. Recruit one or multiple deputy ambassadors:

They help encourage others to participate and generate excitement.
Deputy ambassadors can be part of the challenge.
Additional help and training are available to those who request it.

It's more fun when others are involved, and it's a great leadership opportunity.

GREATEST NEED

For All Women, a campaign to grow Methodist Women's Hospital.

Add 14 NICU rooms, reducing overflow to adult care areas
Invest in new technology, including virtual NICU care platform
Help the Foundation complete the final phase of fundraising!

ONGOING NEED

Caring Coworkers Fund (formerly Family Crisis Connection), emergency assistance for employees facing financial hardship.
Now offering up to $1000 for unexpected expenses, including rents and mortgages, utility bills, and car repairs
349 employees supported in 2022

FML & Termed: If you have an employee on FML or who no longer works at Methodist, please contact Courtney Gatzemeyer at Courtney.Gatzemeyer@nmhs.org.
Auto Renew: Employees who auto renew can still make changes. Please have them email their donation updates to

CaringCampaign@nmhs.org

.
Pay Raises:

Compensation increases will be effective September 17. They will be reflected on the October 6 check.

Joint Campaign: Employees can support one or all three of the Foundations within our health system: Methodist Hospital Foundation, Jennie Edmundson Foundation and Fremont Health Foundation. See the pledge form for instructions.

Once again, 10 weekly winners will each receive a $50 gift card throughout Caring Campaign. Employees will automatically be entered into the weekly drawings when they return their pledge form or make a quick gift. The sooner they act, the more chances they have to win!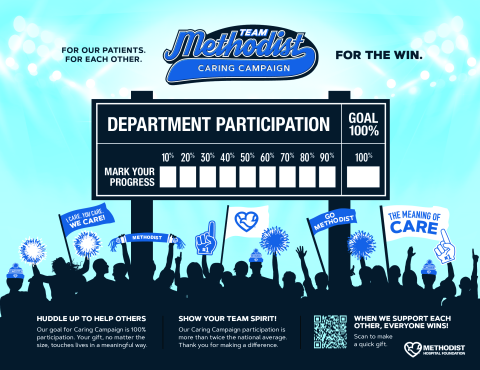 Need additional pledge forms, participation posters or PowerPoint slides? Download using the links below:
Click below to download weekly emails you can send to your team(s) throughout Caring Campaign:
Caring Campaign Videos
Methodist employees share their gratitude for the Caring Coworkers Fund (formerly Family Crisis Connection) and the impact it has had on their lives.